Mounting:

at wall/ceiling

Aspect ratio:

4:3

Screen type:

electric

Projection:

front
CUMULUS 24-18 MW BB
Recommended net retail price: 1206.00 EUR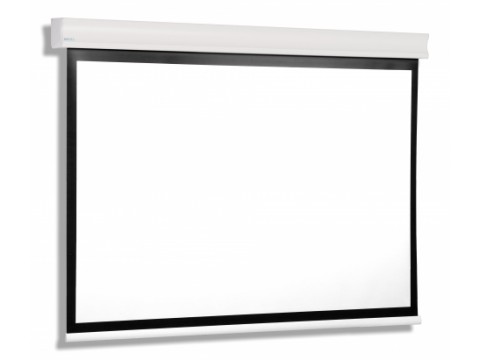 Electric projection screen dedicated for visible installation (at wall or at theceiling) at rooms suitable to screen dimensions. It would be used for movie or presentation projections depending on user needs. Screen casing is manufacturedwith white powder painted aluminium profiles. Projection surface is lead out from slot located close to the front side of casing. This unique solution provides extra space between projection surface and the wall behind capable for installation ofother devices. Flexible and easy to use screen installation system is createdwith "invisible" wall/ceiling brackets and installation rails spanning throughthe whole length of casing. Integrated electric SILENT tubular motor with programmedautomatic stop points ensures long life time of projection fabrics. Projection surface operation speed 490c,/min. Brush gaskets installed along eges of botttom bar slot provide silent and collision free bottom bar hiding inside screen casing during screen operation, they limit penetration of dust poluted air inside casing when the screen is rolled in. It is intended to be controlled by external remote control system or manually withwall switch. Optional RF control system would be integrated inside screencasing; this option would be added during first screen assembly only.

2 year warranty is served door-to-door.Installation accessories and wall switch (RF transmitter for integrated control system) are bundled with the screen as a standard.
The calculator
will facilitate the selection of the projection screen to the projector.
| | |
| --- | --- |
| Projection surface width: | 240 |
| Projection surface height: | 183 |
| Projection surface: | Matt White |
| Screen type: | electric |
| Aspect ratio: | 4:3 |
| Border: | BB |
| Projection type: | front |
| Recommended mounting: | at wall/ceiling |
| Screen cassette width: | 247 |